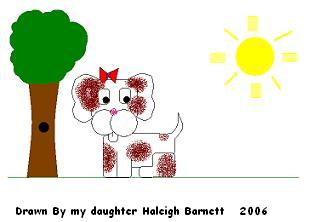 Puppy Contract
Barnett's Rambling Terriers


Thank you for purchasing a puppy from us. We have done our best to provide a
healthy, happy and social puppy . Please know that your puppy needs to go immediately home with you. We do not recommend that the puppy be under any further stress by taking him/her to other places until he/she is settled with his/her new family.
For this health guarantee to be valid, you (the buyer) must take the puppy received to your veterinarian within 7 (seven) days of arrival in your hands or next series of shots.
If within 7 (seven) days of receiving your puppy the veterinarian
discovers a congenital defect that will alter the puppies' life the seller must be provided a statement from the vet. Replacement on this puppy will be made. NO cash will be refunded. You are responsible for all fees acquired while the puppy is in your care. The affected puppy must be sent back to us with all of his/her paperwork that went to you by us. We are not responsible for any parasites that may be present. We treat for those but it is a well known fact that puppies pick these up easily. See below for the 5 year Health guarantee on puppies. Buyer agrees all dogs bred by Barnett's Rambling Terriers should carry the prefix Barnett's on it's registry and pedigree papers. All puppies are sold without a guarantee to height, size or weight as an adult dog, due to unpredictability. The buyer agrees that he/she understands this contract fully, and that this contract is under the jurisdiction of the state of Georgia and the county of Forsyth.We are NOT responsible for any vet bills that may incur with your puppy, Please keep his/her medical records as this is very important for his/her life to be a healthy one.
Your puppy has been vaccinated according to our vets recommendations.
Please enjoy the new life you have purchased, they are precious and need to be treated as such. WE have loved having these puppies in our lives and are trusting that they continue to be loved and nurtured by you.
We do our best to send you the best quality puppy and we take pride in doing
so. Your puppy has been fed ____________________ at _______ and __________ in the amount of __________.
Please sign the contract/bill of sale, keep one copy for your records. Bill of sale will be signed and given upon delivery of the puppy.
We love our puppies and at any time you find that you cannot keep a puppy/adult dog for some unforeseen reason, please give us a call. We would like to help in finding that puppy a new family if at all possible. If your puppy comes with a spay or neuter contract papers will not be released until a certificate or receipt from your vet is received stating spay or neuter was performed at the appropriate age. If said dog is not neutered or spayed by a certain deadline dog must be returned to breeder. Show puppies havea different contract please ask at the time of purchase.
We guarantee our puppies for 5 years
Puppy must have been to the vet by the time specified in the contract to honor the 5-year replacement guarantee

otherwise the puppy is guaranteed for 7 days or until next set of shot is due.

We replace your puppy purchased from us for any genetically-diagnosis.

We do not replace puppies lost due to neglect or parasites.

*Sick animals MUST BE under Veterinary Care at the time of death.

Veterinary verification of death is required or genetic defect.

Replacement is limited to Available Puppies or Future Pick of Litter and based on credit of actual purchase price verse price of replacement puppy.

Our dogs are health tested and we do everything in our power to give you a happy healthy pup but things can still happy. Just ask if you have any questions. All dogs are guaranteed for up to AGE 5. If you are getting an older dog it is also guaranteed up to age 5, if older than age 5 no guarantee is given but they will always have a home with us if needed.
Barnett's Rambling Terriers Spay/Neuter Contract
This is document serves as our spay and neuter agreement which will be signed when purchasing a puppy as "pet" only. This agreement is legal and binding. If purchasing a puppy as "pet only you will be required to have your puppy spayed/neutered before any registration papers are received by the purchaser. Registration papers on this puppy will be withheld until notification of altering of the animal is received and verified. Spay/Neuter Agreement : Permanent ownership of this dog is contingent upon your compliance with this Addendum. Proof of the spay/neuter must be received by the (PURCHASER'S NAME) within fourteen (14) days after the surgery. In the event that the dog's health does not allow this agreement to be honored, BnK Danes must be provided with a statement from your veterinarian that this dog is not yet in physical or emotional condition for surgery. Based upon the veterinarian's evaluation of this dog the (purchaser) will contact the veterinarian and establish the earliest date that the procedure can be performed. (PURCHASER) will notify the BREEDER of this amendment in writing, at which time all other conditions of this agreement will apply and be enforced. This is the responsibility of the PURCHASER, not the veterinarian, to ensure that BnK Danes has received verification that the surgery has been performed. Failure to comply with this agreement by the date below, unless otherwise agreed to in writing, will be considered a breach of the Contract, and PURCHASER will transport this puppy back to BnK Danes and will not be entitled to a refund. By my signature below, I agree to have this dog spayed/neutered by no later than__________________________, and I understand that this spay/neuter agreement is an agreement that this dog will not produce a litter of puppies either as purposely bred or by accidental breeding. I also agree that should puppy not be altered that I will return said puppy back to BnK Danes with no refund. Purchasers Signature: ___________________________________ Date: ____________________, 20___ Purchaser's Name: (Please print):___________________________________ Address: ___________________________________________ Barnett's Rambling Terriers Spay/ Neuter Agreement of the spay/neuter must be received by the (__________________) within fourteen (14) days Barnett Rambling Terriers must be provided with a statement from your veterinarian that this dog is not yet in This is the responsibility of the PURCHASER, not the veterinarian, to ensure that Barnett's Rambling Terriers of the Contract, and PURCHASER will transport this puppy back to Barnett's Rambling Terriers and will NOT be entitled to a refund. back to Barnett's Rambling Terriers with no refund.