**Click on the slide show or image below to see our favorite photos or our dogs, past puppies and just gifts God has given us to enjoy. Keep checking back we will be adding photos more often.

RAMBLING TERRIERS FOUNDATION

Ginger is one of our two foundation dogs that made me fall in love with the breed! She is red and white.She weighs around 24lbs and has a natural bob tail. Ginger is a Standard Teddy Roosevelt Terrier, and is true to the breed. She loves to chase squirrels, opossums, groundhogs and even our cat. Ginger has been part of our family since she was 6 weeks old. We bought her site unseen out of South Georgia(Alma), from a friend who knew our kids wanted a small dog. Ginger went every where with us. She loves water, kids and other dogs. Ginger is a fabulous mom, Great natured dog just loves to run and play! Ginger crossed over the rainbow bridge at age 13 of lung cancer. We miss her dearly but love seeing her great grandbabies carry on her torch !

Ginger is 10 inches Tall & 12 1/2 inches Long
Weighs 23. 4 lbs
10:8 Ratio
Carries: red & white,red, white, tri-colored, and black &white.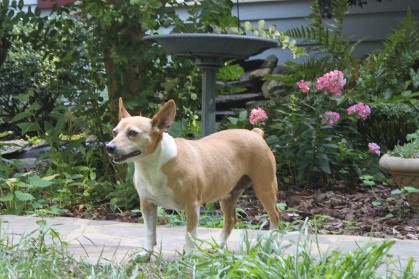 Pepper our foundation Male was a Black Tri Type A male weighing about 12 lbs. He lived a wonderful 7 years when he was lost suddenly to a car accident. He was our first Rat Terrier given to us by my brother in law for the kids and our Siberian Husky a playmate. Both have gone on to doggie heaven. Shared many joys with them.

Photo unavailable at this time